Our goal is to bring liqudity to cryptocurrency and DeFi derivative markets by providing professional investors with risk management and pricing tools that are as sophisticated as those used in traditional derivative markets.
Having worked for many years in traditional derivative markets, we founded DeQuantifi to bring our expertise in building advanced derivative trading tools to cryptocurrency and DeFi derivative markets. Our motivation for this is to encourage professional investors to bring liquidity to these new markets.
We believe that the success of cryptocurrencies and DeFi is important for a couple of reasons. The first is their potential to disrupt the payments industry and to faciliate new business models such as those based on micropayments. The second is to provide a secure and stable storage of value, which is particuarly valuable to those who live under corrupt regimes or under conditions of economic instability, and to the estimated 2 billion people who do not have bank accounts.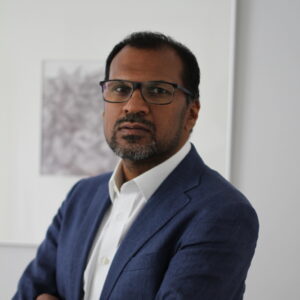 Soheel is an IT Director with over 20 years of experience in Investment Banking Technology. He has held senior IT roles at BNP Paribas, UBS, RBS and Merrill Lynch. The positions he has held include Global Head of Regulatory Technology, Global Head of Cross-Asset Technology, Head of Rates Risk and Head of European Fixed Income E-Trading. Soheel holds an MEng in Engineering from Cambridge University
Fred's background is in capital markets technology and quantitative analysis, having started his career coding and selling derivatives trading systems, then moving on to hold senior IT roles at HSBC, BNP Paribas, RBS and S.G. Warburg. Fred has a BA in physics from Oxford University and a Msc in Computer Science from Edinburgh University.